I don't know about you, but when the weather is warms up, I tend to gravitate towards lighter, fresh meals. Try out this recipe for Avocado Shrimp Salad from Family Fresh Meals for a nutrient packed lunch or snack!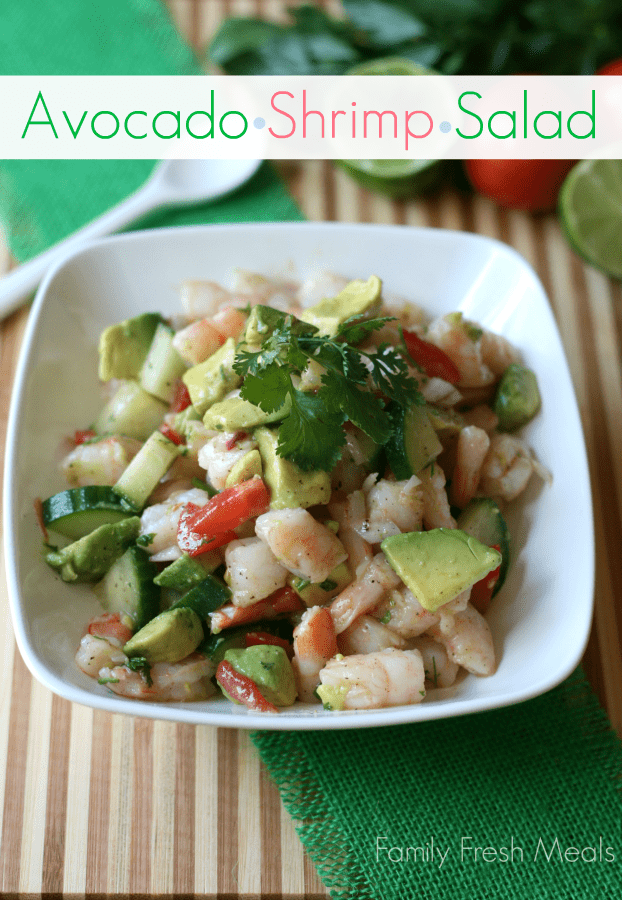 Ingredients:
1/2 Tablespoon olive oil (or avocado oil if you have it)
2 limes (juice from limes)
1/4 cup chopped red onion
1/4 teaspoon salt
1/4 teaspoon pepper
1/8 teaspoon celery salt
1/2 cup cucumbers, diced
1 lb cooked shrimp, peeled, deveined and chopped
1/4 cup fresh tomato, diced
1 avocado, diced
1 Tablespoon chopped cilantro
Recipe adapted from Skinny Taste
Directions:
In a small bowl combine red onion, lime juice, olive oil, celery salt, salt and pepper. Let onions marinate for 5-10 minutes.
Next combine chopped shrimp, avocado, tomato, cucumbers, cilantro and gently mix until well combined. Drizzle dressing over mixture and gently toss once more to evenly coated.
Refrigerate for at least 30 minutes. This lets all the lovely favors develop!
Thank you again to Family Fresh Meals for sharing this yummy recipe!